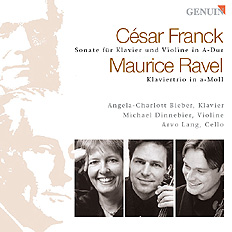 | | |
| --- | --- |
| César Franck (1822–1890) | |
| Sonate für Klavier und Violine in A-Dur (1886) | |
| Allegretto moderato | |
| Allegro | |
| Recitativo – Fantasia. Moderato | |
| Allegretto poco mosso | |
| Maurice Ravel (1875–1937) | |
| Klaviertrio in a-Moll (1914) | |
| Modéré | |
| Pantoum (Assez vif) | |
| Passacaille (Très large) | |
| Final (Animé) | |
| | |
by C. Franck and M. Ravel
Angela-Charlott Bieber, Piano
Michael Dinnebier, Violin
Arvo Lang, cello


In stock, shipping in 1-2 days.

Shipping only within the EU, UK, Switzerland, Norway
We offer free shipping!

Please read our General Terms and Conditions and Privacy Statement carefully.


Symmetry in A. Two masterpieces in the same key, both of which seem to be bowing in respect to the year 1900 — one from the 20th, the other from the 19th century. Two composers, both of whom received their training in Paris and left a decisive mark on cultural life there. Twice the listener is taken to a pleasant state between old forms and new content, between tradition and progress, between romantic longing and formal classical balance. On this new Genuin CD, César Franck's expressive violin sonata and Maurice Ravel's unbridled piano trio convey pure, transparent tonal language and crystal-clear acoustics In the Ravel, three young artists play with a spare, slender tone while putting their complete technical mastery on display, first guiding the listener through the rhythmic straits of "Pantoum." They then effortlessly perform Franck's expansive contrapuntal textures.