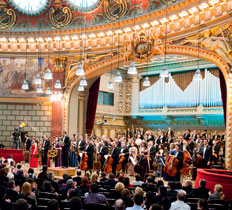 Romanian National Symphony Orchestra
As Romania's youngest symphony orchestra, the Romanian National Symphony Orchestra has successfully made an international reputation for itself. The orchestra was established in 2008 as the Romanian Youth Orchestra, initiated by cellist and artistic director Marin Cazacu together with the support of the "Friends of Music – Serafim Antropov" foundation and the ministry of culture. The orchestra brings together the youngest generation of musicians from Romania's established orchestras.
At the beginning, the orchestra was under the artistic direction of Maestro Cristian Mandeal. It has also invited Lawrence Foster, Kristjan Järvi, Horia Andreescu, Christian Badea and Alexandre Myat as guest conductors and has worked together with numerous renowned soloists, including David Garrett, Pinchas Zukerman, Sarah Chang, Amanda Forsyth, Mihaela Martin, Bogdan Bácanu and the Wave Quartet.
The orchestra is regarded as "the jewel of Romania's musical culture" and is one of the country's most successful music projects in the past 30 years. The impressive development and success was evident in their participation in both the George Enescu and Sergiu Gelibidache International Festivals as well as in several exceptional performances in Paris, Strasbourg, Berlin, Rome, Aix-en-Provence, Vienna, Istanbul and Brussels.
The Artist's Homepage:
http://romanianorchestra.com

Lauda Concertata

Works by Emmanuel Séjourné and Akira Ifukube

Bogdan Bácanu, Marimba - The Wave Quartet, Marimba and Percussion - Romanian National Symphony Orchestra - Cristian Mandeal, Conductor

| | |
| --- | --- |
| GEN 16441 | |