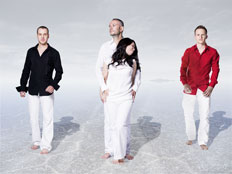 The Wave Quartet, Marimba and Percussion
"Refreshingly different," "Highly musical and somehow infectious," "rousingly enthusiastic playing"–these are just some of the attributes that were given to the Wave Quartet by the press for Loco, their latest release. For the past eight years the marimba quartet has been approaching music ranging from the baroque to the modern with musical gusto, curiosity and enthusiasm.
The impulse for the quartet's establishment was a special wish by Bogdan Bácanu, one of the most experienced and renowned masters of his art. Passionate about baroque music, he wanted to be able to perform Johann Sebastian Bach's concerto for two harpsichords on the marimba and therefore founded the Wave Quartet together with three top-class colleagues: Emiko Uchiyama and Vladi Petrov, who, together as a duo, were prizewinners of several international competitions and Christoph Sietzen, prizewinner of the International ARD Competition and "rising star" of the European Concert Hall Organization (ECHO). The ensemble was officially born in 2008 at the Berlin Konzerthaus, where they performed Bach's Concerto in C major, BWV 1061a, in an arrangement for four marimbas. It was a concert that thrilled both the press and public, not least because of the quartet's respectful treatment of the original version but also for the historically informed manner that they approached Bach's music. Since then, the repertoire of Bach and contemporary composers has been an important aspect of the quartet's work, leading them to performances with, among others, the Mozarteum Orchestra in the Salzburg Festival Hall and the Romanian National Symphony Orchestra at the Athenaeum in Bucharest. Further concerts and master classes have taken the Wave Quartet to many countries throughout Europe and Asia, where the ensemble has been met with great enthusiasm.
In 2008, the debut CD of the Wave Quartet, Aurora Borealis, was released, which followed one year later with a recording featuring all three of Bach's concertos for two harpsichords, performed together with the Salzburg Barock under the direction of Peter Saldo. Senza Ripieno, their third recording that was released in 2011, is an intimate recital disc featuring rarely heard baroque works without orchestral accompaniment. In January 2016 the GENUIN classics CD Loco, in which the ensemble dedicates itself to works by Carlos Gardel, Astor Piazzolla and Rodrigo y Gabriela, was released. In this recording, the four musicians and their marimbas musically relay the passion and drama of Tango Nuevo with the same sensitivity and authenticity found in their approach towards baroque music. The next project is already at the starting blocks: in concertos for two to four marimbas, the quartet, together with L'Orfeo Baroque Orchestra, once again explores the music of Johann Sebastian Bach.
The Wave Quartet plays exclusively on marimbas by Adams Musical Instruments.
The Artist's Homepage:
http://www.wavequartet.com

Lauda Concertata

Works by Emmanuel Séjourné and Akira Ifukube

Bogdan Bácanu, Marimba - The Wave Quartet, Marimba and Percussion - Romanian National Symphony Orchestra - Cristian Mandeal, Conductor

| | |
| --- | --- |
| GEN 16441 | |
Loco

Works by Josh Groban, Astor Piazzolla, Reentko, Carlos Gardel and Rodrigo y Gabriela

The Wave Quartet, Marimba and Percussion

| | |
| --- | --- |
| GEN 16403 | |