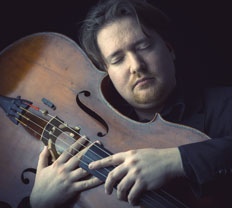 Born in Poland in 1984, composer and concert cellist Tomasz Skweres has lived in Vienna since 1997. He studied composition with C. Czernowin and D. Müller-Siemens at the State Music Conservatory in Vienna, as well as cello performance with S. Kropfitsch and V. Erben.
Tomasz Skweres has won several competitions as a composer and his works are regularly performed at such renowned concert halls as Vienna's Musikverein and Konzerthaus, the Stadttheater Bern, the Münchner Gasteig, the Theater Regensburg, the Trafo Theater in Budapest, the Philharmonie Lemberg, the Guangzhou Xinghai Concert Hall in China and the Teatro da Reitoria in Curiciba, Brazil. Well-known concert artists in many different countries perform his works at festivals, including the Festival Wien Modern, Festival Biennale Bern, the Ukrainian Biennale for Contemporary Music, the Festival Klangspuren in Austria, the Festival Musikalischer Sommer in East Frisia, the Festival Goslar Harz, the Festival Bienal Música Hoje in Curiciba, Brazil, and the Festival Komponistenmarathon in Austria. His compositions are published by Doblinger.
From 2009 to 2011 he was a cellist with the Vienna Radio Symphony Orchestra. He pursues a busy international career performing as a chamber musician, especially in programs of New Music. Tomasz Skweres is currently a cellist with New Music specialists Ensemble Platypus and has been the solo cellist of the Philharmonisches Orchester Regensburg since January 2012.
The Artist's Homepage:
http://www.skweres-music.com

Soundscapes III - A Tribute to Benjamin Britten

Works by Tomasz Skweres, Roman Pawollek, Daniel Oliver Moser, Piotr Skweres, Benjamin Britten

Rainer Stegmann, Guitar - Tomasz Skweres, Cello

| | |
| --- | --- |
| GEN 15362 | |