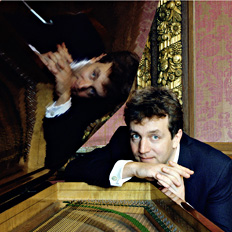 Generally considered one of the most versatile and distinguished keyboard players of his generation, he applies himself to historically informed piano playing as well as musicological studies—always aiming to vivaciously and in an unorthodox manner perform all kinds of music using the most appropriate keyboard instrument, be it clavichord, harpsichord, pianoforte, organ, romantic or modern concert grand. He is part of a new generation of musicians that seeks to trace the essence of sound with curiosity and unprejudiced versatility. His repertoire includes with equal implicitness works of Renaissance composers like Orlando Gibbons and avant-garde pieces by Karlheinz Stockhausen. Trained in master-classes in the Düsseldorf Music Academy, in Graz, Vienna and Brussels his comprehensive musical career takes him around all of Europe.
Tobias Koch participates in important festivals as soloist, chamber music partner and vocal accompanist alike. He works as official pianist and coordinator for significant music competitions like Concours Reine Elisabeth Bruxelles and Verbier Academy. He obtained precious artistic inspiration from the pianists David Levine, Roberto Szidon, Jos van Immerseel, Claire Chevallier, Malcolm Bilson and Andreas Staier. Tobias Koch received the Förderpreis Musik der Landeshauptstadt Düsseldorf and scholarships from the DAAD and Konrad-Adenauer-Stiftung. Positions as a lecturer at the Johannes-Gutenberg-Universität in Mainz and at the International Summer Academy in Montepulciano, more than seventy radio productions, publications on performance practice, rhetoric and musical aesthetics as well as several CD-recordings complete his musical activity.
With particular affinity for encyclopaedic projects, Tobias Koch cyclically performs the complete piano works of Mozart, Haydn, Schubert, Schumann, Janácek and Schönberg. He is furthermore considered one of the most distinguished Schumann interpreters, particularly in the realm of romantic performance practice.

The Artist's Homepage:
http://www.tobiaskoch.eu/

Robert Schumann

Bunte Blätter, Op. 99, Albumblätter, Op. 124, and music by Johannes Brahms, Theodor Kirchner, Woldemar Bargiel

Tobias Koch, Piano

| | |
| --- | --- |
| GEN 13285 | |
FREE LISTENING: CD Sampler

10 Years GENUIN classics

Ramón Ortega Quero, Oboe - cello project - Eckart Runge, Jacques Ammon - Viviane Chassot, Accordion - Kit Armstrong, Piano - Andrej Bielow, violin - Adrian Brendel, cello - Amaryllis Quartett - Tobias Koch, Piano - Paul Badura-Skoda, Piano - Nicolas Altstaedt, Cello - José Gallardo, piano - Michael Schäfer, Piano - Toutes Suites - Camerata Musica Limburg - Dresdner Philharmonie - Michael Sanderling, Conductor

| | |
| --- | --- |
| FREE LISTENING | |
Frédéric Chopin, Ferdinand Hiller, Franz Liszt

Trois amis à Paris

Tobias Koch, Piano

| | |
| --- | --- |
| GEN 12255 | |
Piano Music for the Young

Album für die Jugend Op. 68, Drei Clavier-Sonaten für die Jugend Op. 118, Geburtstagsalbum für Marie, Kleiner Lehrgang durch die Musikgeschichte a.o.

Tobias Koch, Piano

| | |
| --- | --- |
| GEN 10170 | |
Robert & Clara Schumann

Piano Works from Dresden 1845–1849

Tobias Koch, Piano

| | |
| --- | --- |
| GEN 10159 | |
Felix Mendelssohn Bartholdy, Fanny Hensel

Piano Works

Tobias Koch, Piano

| | |
| --- | --- |
| GEN 89156 | |
Wolfgang Amadé Mozart

The Palatine-Sonatas KV 301-306

Tobias Koch, Piano - Lisa Marie Landgraf, violin

| | |
| --- | --- |
| GEN 87096 | |
Robert Schumann

Late Piano Works

Tobias Koch, Piano

| | |
| --- | --- |
| GEN 86062 | |
Norbert Burgmüller

Complete Works for Pianoforte on Period Instruments

Tobias Koch, Piano

| | |
| --- | --- |
| GEN 86061 | |
Robert Schumann

Complete Works for Violin and Pianoforte on period instruments

Lisa Marie Landgraf, violin - Tobias Koch, Piano

| | |
| --- | --- |
| GEN 04043 | |