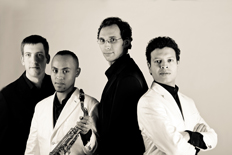 Ellipsos Quartet, saxophone
Flamboyance, audace, generosity: since their 2004 debut in Nantes, the three distinctive qualities aspired to by the French Ellipsos Quartet have been flamboyance (passionate), audace (daring) and générosité. These attributes have made Paul-Fathi Lacombe (soprano sax), Julien Brechet (alto sax), Sylvain Jarry (tenor sax) and Nicolas Herrouët (baritone sax) one of the foremost ensembles of their generation.
Flamboyance. A bright and homogeneous sound is combined with an energetic performance style. The virtuosity and mastery of the instrument creates a new and resplendent sound. Their intense live performances stir the same flame of passion with concert audiences.
Audace. The ever-innovative spirit of this quartet is founded on its self-confidence. The ensemble was the first saxophone quartet to be included in the Pro Quartet curriculum and give a chamber music class at the famed Paris Conservatory. The Ellipsos Quartet constantly expands its repertoire with new arrangements and premiere performances, spreading their fame and signature sound, and garnering several international prizes.
With dauntless verve, the four saxophonists also join forces with Javanese gamelans, string quartets, jazz greats and many other formations. In their most recent project, Sax & Gospel, they boldly blend their own vocals in with the instrumental ensemble sound.
This audace led to broadcasts on Radio France and concert engagements at Salle Pleyel, Petit Palais de Paris and other important concert venues. The quartet's two albums, Médina and Peer Gynt, have been highly successful.
Generosity. Interacting with the audience in concert is spontaneous and indispensable. In addition to performing on stage, the Ellipsos Quartet also shares its musicality with other musicians. All four musicians teach young people as part of their yearly academy or give master classes in France and abroad. Because their music extends beyond concert auditoriums, the perspective of the Ellipsos Quartet extends beyond walls and boundaries. Their activities also include benefit concerts for UNICEF or guest performances in Spain, Germany, Switzerland, Italy, the US and Brazil, with more venues added all the time!
The Artist's Homepage:
http://www.quatuor-ellipsos.com/

Bolero

Works by Maurice Ravel, Gabriel Pierné, Thierry Escaich and Jean Françaix

Ellipsos Quartet, saxophone

| | |
| --- | --- |
| GEN 14543 | |