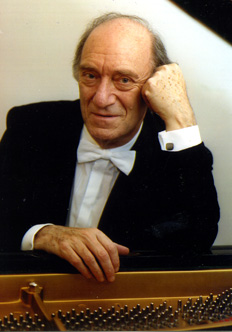 Memoires - Sebastian Benda, Pianist
(8 April 1926 – 20 February 2003)

The pianist Sebastian Benda too was born into a long musical tradition in 1926: His father, the Swiss native Jean Benda, was a well-known violin teacher who taught at the "Hoch'sche Konservatorium" in Frankfurt am Main until the seizure of power by the National Socialists. When he was only nine, Sebastian's compositions attracted the attention of renowned composers such as Arthur Honegger, Frank Martin, Alfredo Casella and Joaquin Nin, who predicted a brilliant future for the talented youngster.

After completing his studies with the "1st Prix de virtuosité" he was invited by the pianist Edwin Fischer, who recognized the exceptional potential of the young pianist, to become his master student.

Together with Edwin Fischer, at an early age Benda performed as a soloist in several concert series in Switzerland. This marked the beginning of a career as a solo pianist which ultimately took him to 40 countries in Europe, Asia and North and South America.

The search for new values in post-war Europe manifested itself in music too in a radical break with composing traditions. This "mood of regeneration" in the first years after World War II also affected the young Benda, who now dedicated himself more strongly to the interpretation of contemporary music: for instance, among other things in 1949 he participated as pianist and chamber musician at the "Tage für Neue Musik" in Darmstadt. The in his view unfathomable divergence of paths of development found in New Music of the 1950s led to his decision to devote himself from then on exclusively to performing in concert and recital.

In 1952 he went on a tour of South America. In Brazil he discovered a new and fascinating world which impressed him to such an extent that he decided to settle there. Benda rapidly expanded his repertoire to include the works of Heitor Villa-Lobos and other South American composers, which he subsequently performed all over the world.

Sebastian Benda lived in Brazil for 29 years in all (1952 – 1981); almost three decades which were, however, interrupted by regular concert tours to Europe and Asia: as a soloist he performed with orchestras such as the Tonhalle Orchestra in Zurich, the Orchestre de la Suisse Romande, NDR Hamburg, the Frankfurt Radio Symphony Orchestra, the Kol Israel Orchestra Jerusalem, The Hague Philharmonic, the George Enescu Philharmonic Orchestra Bucharest, the Osaka Philharmonic Orchestra and the Sofia Philharmonic Orchestra.

Leading conductors such as Hermann Scherchen, Hans von Hoesslin, Hans Schmidt-Isserstedt, Erich Schmidt, Ernest Bour, Takashi Asahina or Eleasar de Carvalho valued Benda as a congenial partner.

In 1958 Sebastian Benda was honored with the Bach Medal of the Harriet Cohen International Music Award Council after he had performed three piano recitals with different programs in London's Wigmore Hall within a single week.

Sebastian Benda was a great humanist whose charismatic personality and strong presence were a powerful attraction to all people, particularly as is obvious with concert audiences. His playing, like his character, was marked by great poetry and simplicity, as well as great energy and vitality, entirely in a Schumannesque sense. Like his teacher, Edwin Fischer, he was also a musician of great depth in whose interpretations there was no place for the superficial and the superfluous.

Kind of Jazz

Works by George Gershwin, Joseph Horovitz, Erwin Schulhoff, Leonard Bernstein, Daniel Schnyder

François Benda, clarinet - Sebastian Benda, Piano

| | |
| --- | --- |
| GEN 17465 | |
Memoires

Sebastian Benda, Piano

Sebastian Benda, Piano

| | |
| --- | --- |
| GEN 13283 | |