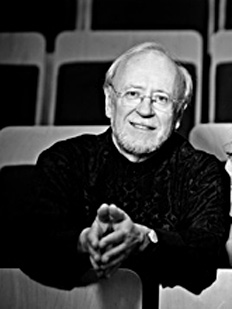 Hans-Udo Heinzmann, flute
Born in 1947, Hans-Udo Heinzmann received his first musical training with the famous Regensburger Domspatzen. After completing secondary school, he obtained a Solo Flute performance degree at the Munich Musikhochschule and studied with Peter-Lukas Graf in Basle and Sion, Switzerland.

Since 1970 he has performed with orchestras in Augsburg and Munich, at the Frankfurt State Opera, and with the Deutsche Oper Berlin. In 1982 he became a flautist with the NDR Radio Symphony Orchestra in Hamburg. For decades now Hans-Udo Heinzmann has been in demand as a soloist and chamber music partner.

His performing career has included appearances at such important festivals as the Flanders Festival, the Hamburger Musikfest, the Schleswig-Holstein Music Festival, the Salzburg Festival, the Bayreuth Festival, and the Edinburgh International Festival, as well as concert tours in Europe, South America and Japan, Korea and China. He has founded several ensembles and has championed the performance of New Music. Numerous radio and TV productions and CD recordings including releases with GENUIN classics document his artistic versatily.

As the initiator of a chamber music concert series with the NDR Symphony Orchestra he has repeatedly drawn attention to forgotten or ostracized composers. He remains actively involved in the programming and management of this concert series. His artistic experience and judgement are highly valued at the Hochschule für Musik und Theater in Hamburg, where he has been Professor for Flute for many years.

Hans-Udo Heinzmann is also involved in the technical development of the flute, and has become a sought-after specialist in flute making. In 1985 he and colleagues and friends founded the German Flute Society, to whose programming and organization he made a significant contribution for many years as a member of the board.

La flûte enchantée

Works by Claude Debussy, César Franck and Joseph Jongen

Hans-Udo Heinzmann, flute - Elisaveta Blumina, Piano

| | |
| --- | --- |
| GEN 14318 | |
Pierné . Gade . Prokofiev

Grand Sonatas for Flute

Elisaveta Blumina, Piano - Hans-Udo Heinzmann, flute

| | |
| --- | --- |
| GEN 10173 | |
Romantic Flute

Flute Sonatas by Max Meyer-Olbersleben, Julius Rietz and John Francis Barnett

Hans-Udo Heinzmann, flute - Elisaveta Blumina, Piano

| | |
| --- | --- |
| GEN 85517 | |
Between Times

Flute Music of the Twenties Works by J.Lauber, F.Finke, S.Karg-Elert and P.Juon

Hans-Udo Heinzmann, flute - Jürgen Lamke, piano

| | |
| --- | --- |
| GMP 04502 | |