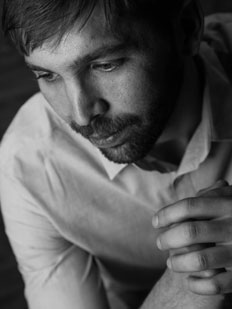 Andreas Mildner, born in 1984, is one of the most interesting harpists of his generation. Through his "technical brilliance" and "incredibly aesthetic use of timbres," he succeeds in impressing critics and audiences time and again.

When he was six years old, he discovered his enthusiasm for the harp and was accepted into the harp class of Gisèle Herbert at the age of fourteen. He received further inspiration from Ursula Holliger, Frédérique Cambreling, and Marie-Pierre Langlamet.

With his exceptional and extensive repertoire, Mildner is a sought-after soloist in Germany and abroad. At the age of seventeen, he made his solo debut with the Czech Chamber Philharmonic Prague. Since then he has been regularly invited by several renowned orchestras, including the symphony orchestras of the WDR and SWR and the Bremen Philharmonic Orchestra.

Mildner has won prizes at numerous music competitions. In 2012 he received the Bayerischer Kunstförderpreis (Bavarian state award for the advancement of the arts). He has been a scholarship holder of the Jürgen Ponto Foundation, German Foundation for Musical Life, German National Academic Foundation, and German Music Council. In 2007 Mildner received a teaching position and in 2015 was appointed professor at the University of Music Würzburg.

Mildner is a frequent guest at numerous music festivals, including the Mecklenburg-Vorpommern Festival, Ludwigsburg Palace Festival, Schleswig Holstein Music Festival, World Harp Congress, and Lucerne Festival.

Better Without Words

Lieder and Arias by Schumann, Schubert, Wagner, Puccini, Mascagni and Borne

Andreas Martin Hofmeir, Tuba - Andreas Mildner, Harp

| | |
| --- | --- |
| GEN 19676 | |
Why not?

Works by J. Duda, G. Ph. Telemann, Q. Maganini, G. Näther, A. Piazzolla, A. Caplet and J. Massenet

Andreas Martin Hofmeir, Tuba - Andreas Mildner, Harp

| | |
| --- | --- |
| GEN 13278 | |
Primal Recordings

Original Works by Jörg Duda, Gisbert Näther, Kjell Reikjer

Andreas Martin Hofmeir, Tuba - Michael Martin Kofler, Flute - Hinrich Alpers, Piano - Junge Philharmonie Salzburg - Andreas Mildner, Harp - Albert Osterhammer, Bass Clarinet - Neubrandenburger Philharmonie

| | |
| --- | --- |
| GEN 12231 | |