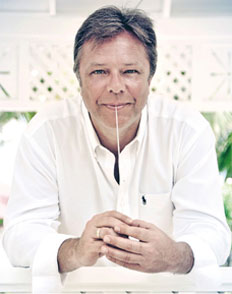 As an internationally acclaimed conductor, teacher and musical ambassador, Thomas Clamor passes on his dedication and enthusiasm to both his musicians and audience alike. In addition to being the principal conductor of the Saxon Wind Philharmonic, he is an internationally sought-after guest conductor for numerous symphonic orchestras and chamber music ensembles around the world. Many highly-praised audio, video and radio broadcast recordings document the stylistic range of his artistic work.

Thomas Clamor founded the European Brass Ensemble, based in Austria at the Melk Abbey (a UNESCO-World Heritage Site) as well as the Venezuelan Brass Ensemble, which has placed him on some of the greatest stages in the world. He has conducted at, among others, the Salzburg Festival, the London Proms, Carnegie Hall and the Berlin Philharmonic and is a well-received guest by many orchestras in China, Korea, South America and Europe.

Pedagogically, Thomas Clamor is also continually taking on new challenges. Since 2011 he has been the director of the German Wind Academy. He was a guest professor in Weimar and Detmold and is a professor (honoris causa) at the Shanghai Conservatory of Music. At the Berlin Hanns Eisler School of Music he laid the foundation for the Department of Music Education and initiated projects with his students in Berlin's socially disadvantaged neighbourhoods. Social issues are also at the heart of El Sistema in Venezuela, one of the most significant worldwide social projects, which is based upon the concept of music's transformational power. For 15 years, Thomas Clamor's work there has been held in high regard as he gives children and adolescents a vision for the future.

For many years the Berlin Philharmonic was Thomas Clamor's musical home. In 1986 Herbert von Karajan hired him as trumpet player as the then-youngest member of the world-class orchestra. He remained a member of the Berlin Philharmonic for over 20 years. During this time with the orchestra he became acquainted with the most important stages, performed at some of the most important venues around the world and experienced the greatest soloists and conductors in the ensemble's daily work.

Even today, Thomas Clamor works and conducts at the highest level of artistic exchange. In 2015 he was awarded Germany's Federal Cross of Merit. His artistic excellence demonstrates that he is an exemplary model of someone who not only makes impressive social contributions but is also actively involved in national and international education. Thomas Clamor never presents himself on stage as just a musician, but as an entire person. Through his art and projects, he shows how important music is for every individual as well as what art can achieve in society.
The Artist's Homepage:
https://thomasclamor.com/

British Classics

Works by Byrd, Handel, Purcell, Holst, Vaughan Williams and Elgar

Sächsische Bläserphilharmonie - Andreas Martin Hofmeir, Tuba - Thomas Clamor, Conductor

| | |
| --- | --- |
| GEN 20658 | |
Hansel und Gretel

Excerpts from the Opera by Engelbert Humperdinck

Thomas Clamor, Conductor - Sächsische Bläserphilharmonie - Caroline Schnitzer - Anne Petzsch - Leevke Hambach - Josephin Queck - Frederik Tucker

| | |
| --- | --- |
| GEN 18619 | |
Diversity

Works by Charpentier, Walton, Castro D'Addona, Lecuona, Méndez, Gershwin, de Paula Aguirre, Hodel and Blake

European Brass Ensemble - Thomas Clamor, Conductor

| | |
| --- | --- |
| GEN 18608 | |
Philharmonic Profile

2010-2018

Sächsische Bläserphilharmonie - Thomas Clamor, Conductor

| | |
| --- | --- |
| GEN 18630 | |
The First Noël

A Fine Christmas Selection by GENUIN classics

Musica Lingua - Anna Christiane Neumann, Piano - MDR-Rundfunkchor - Ramón Ortega Quero, Oboe - Marburger Bachchor - Quintessenz, Flute ensemble - Ensemble Nobiles - Daniel Beilschmidt, Organ - Mark Schumann, Cello - Annette Unternährer-Gfeller, Organ - Sächsische Bläserphilharmonie - german hornsound, Horn Quartet - Barbara Kortmann, Flute - Jaime González, Oboe - Thomas Clamor, Conductor

| | |
| --- | --- |
| GEN 17487 | |
Russian Classics

Works by Mikhail Glinka, Dmitri Shostakovich, Pyotr I. Tchaikovsky, Sergei Prokofiev and Igor Stravinsky

Sächsische Bläserphilharmonie - Thomas Clamor, Conductor

| | |
| --- | --- |
| GEN 17480 | |
Winds and Pipes

Music for Symphonic Wind Ensemble and Organ by Peeters, Trachsel, Guilmant, Gigout, Gabrieli and Bach

Sächsische Bläserphilharmonie - Daniel Beilschmidt, Organ - Thomas Clamor, Conductor

| | |
| --- | --- |
| GEN 16445 | |
In Residence

Works by Leonard Bernstein, Georges Bizet, James Morrison, Sergei Prokofiev, and Richard Wagner

European Brass Ensemble - Thomas Clamor, Conductor

| | |
| --- | --- |
| GEN 16427 | |
Images and Mirrors

Works for Cello, Saxophone Quartet and Wind Orchestra

Sächsische Bläserphilharmonie - Peter Bruns, Violoncello - clair-obscur, Saxophone Quartet - Thomas Clamor, Conductor

| | |
| --- | --- |
| GEN 16419 | |
Alma Llanera - Soul of the Plains

Venezuelan Music

Sächsische Bläserphilharmonie - Alma Llanera Quintet - Thomas Clamor, Conductor

| | |
| --- | --- |
| GEN 15358 | |
Saxony

Works by Johann Sebastian Bach, Felix Mendelssohn Bartholdy and Richard Wagner

Sächsische Bläserphilharmonie - Thomas Clamor, Conductor

| | |
| --- | --- |
| GEN 15333 | |
Symphonic Dances

Works by Dvorák, Mussorgsky, Offenbach, Strauss, Tchaikovsky and others

Sächsische Bläserphilharmonie - Thomas Clamor, Conductor

| | |
| --- | --- |
| GEN 14307 | |
Classiques français

Works by Paul Dukas, Georges Bizet, Jean Françaix and Maurice Ravel

Sächsische Bläserphilharmonie - Thomas Clamor, Conductor

| | |
| --- | --- |
| GEN 13291 | |
Mambos y Fanfarria!

Works by Giancarlo Castro D´Addona, Pérez Prado, Alberto Ginastera, Maurice Ravel, Felix Mendelssohn Bartholdy and Modest Mussorgsky

Banda Sinfónica Juventil Simón Bolívar, Symphonic Wind Ensemble of El Sistema - Thomas Clamor, Conductor

| | |
| --- | --- |
| GEN 13260 | |
American Classics

Leonard Bernstein, George Gershwin, Henry Mancini

Sächsische Bläserphilharmonie - Thomas Clamor, Conductor - Ines Agnes Krautwurst, Vocals

| | |
| --- | --- |
| GEN 12247 | |
Festivus

Symphonic Classics

Sächsische Bläserphilharmonie - Thomas Clamor, Conductor

| | |
| --- | --- |
| GEN 11221 | |