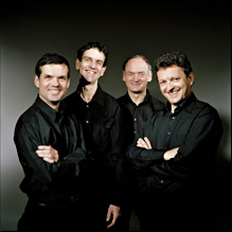 After its earliest successes in 1985 at the Evian Competition and in 1987 at the Borciani Competition in Reggio Emilia, Quatuor Sine Nomine of Lausanne, Switzerland has been pursuing an international career and appears in concert in many European and American cities, most notably in London (Wigmore Hall), Amsterdam (Concertgebouw) and New York (Carnegie Hall).
Widely respected artists have had an influence on the development of the quartet: after Rose Dumur Hemmerling, who passed her passion for music on to the ensemble, opening the door to the great string quartet tradition, the Melos Quartet must also be mentioned. The quartet's work with Henri Dutilleux during recording of his composition "Ainsi la Nuit" was also a milestone in the quartet's history.
Ongoing collaboration with other musicians constantly enriches the ensemble's perspective. Close relationships with other string quartets have ensued over the years, including with the Berlin-based Vogler Quartet and the Carmina Quartet of Zurich.
The Sine Nomine Quartet has a vast repertoire ranging from Haydn all the way to 21st century works, including rarely performed music such as the Op. 7 Enescu Octet. The quartet has given many premiere performances of new work some of which were dedicated to the ensemble. The quartet's discography is comprehensive: Alongside the most important works within traditional string quartet repertoire (including complete recordings of the quartets by Schubert and Brahms), Arriaga quartets and the works of Turina have also been recorded, as well as piano quintets by Furtwängler and Goldmark.
In 2001, the quartet initiated the Festival Sine Nomine in Lausanne, which is now successfully held every two years.
The Sine Nomine Quartet receives funding from the city of Lausanne and the canton of Vaud. Its performing career, especially internationally, is also supported by the Association des Amis du Quatuor Sine Nomine, which was founded in 1994. Sine Nomine, meaning "without a name," is intended to symbolize the constant endeavor of devoting ones efforts to composers and the performance of their works.

The Artist's Homepage:
http://www.quatuorsinenomine.ch/

William Blank: Einklang

Book for String Quartet

Barbara Zanichelli, Soprano - Quatuor Sine Nomine - William Blank, Composer

| | |
| --- | --- |
| GEN 16422 | |
Wolfgang Amadeus Mozart

Complete String Quintets

Quatuor Sine Nomine - Raphaël Oleg, viola

| | |
| --- | --- |
| GEN 13275 | |
String Quartets

by Ravel, Stravinsky, Debussy

Quatuor Sine Nomine

| | |
| --- | --- |
| GEN 89141 | |