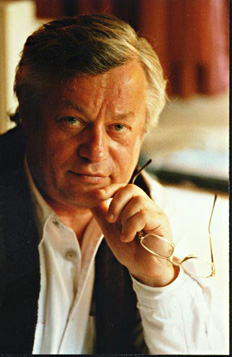 Siegfried Matthus, Composer
Siegfried Matthus was born in Mallenuppen, East Prussia, on April 13, 1934. Driven from their homeland, in 1944 the family found itself in Läsikow, in a small
Brandenburg village between Kyritz and Neuruppin. Siegfried Matthus attended
the high school in Rheinsberg until 1952. He has remained in close touch with the
strongly traditional city, founding the International Festival of Young Opera Singers in 1990, the chamber opera of Rheinsberg Castle. With his high school diploma from Rheinsberg in his pocket, he studied at the Deutsche Hochschule für Musik in Berlin, first majoring in Choral and Ensemble Conducting and later Composition with Rudolf Wagner-Regeny and Hanns Eisler. Matthus worked as a freelance journalist for radio between 1960 and 1964, was a songwriter, and composed radio plays and film scores.
In 1964 Walter Felsenstein brought the young composer to the Komische Oper Berlin, where he became Composer-in-Residence. Collaboration with Walter Felsenstein, Götz Friedrich, Harry Kupfer, Joachim Herz, Horst Seeger, and Kurt Masur shaped his years there. Matthus's compositions gained international recognition. He became a member of the German Academy of the Arts Berlin (East), and in the mid-70s was also named to the
Academy of Arts (West) and to the Bavarian Academy of Fine Arts Munich.
His 13 operas firmly place dramatic works at the center of his output as a composer. His opera "Die Weise von Liebe und Tod des Cornets Christoph Rilke" was premiered at the reopening of Dresden's Semperoper in 1985; this work has been and can still be heard on opera stages from Berlin to Saint Petersburg and New York. For "Judith"—also written in 1985—
the curtain went up 25 times at the Komische Oper alone. Performances followed in Krefeld-Mönchengladbach, Ludwigsburg, Wiesbaden, Santa Fe and Bern. "Kronprinz Friedrich"— first performed at the opening of the rebuilt Rheinsberg Schlosstheater at the end of
1999—has been performed in various productions more than 50 times until now. These are impressive performance statistics for contemporary operas. And these are only examples. Matthus's oeuvre is gigantic. In addition to opera it includes vocal and orchestral works as well as instrumental concertos. Many works, such as among others "Responso," "Der Wald," and "Manhattan Concerto" are standard works within the orchestra repertory. To
mark the occasion of the re-dedication of the Dresden Frauenkirche he composed a "Te Deum"—which was first performed by the Dresden Philharmonic under Kurt Masur in 2005. He worked through the loss of his homeland in his "Lamento"—first performed in 2007 by the Munich Philharmonic under Christian Thielemann. And every year new works are added. For instance, in May 2009 the "Concerto for Five"—commissioned by the Berlin
Philharmonic—is being premiered under Sir Simon Rattle. His lively, graphic musical language, his sure sense of expressive means, his sensitive treatment of the human voice, have made Siegfried Matthus one of the most successful contemporary
composers. He is an untiring proponent of the cultural traditions of Germany in
general, and for the opera as an artistic genre in particular.
The Artist's Homepage:
http://www.siegfried-matthus.de/

Siegfried Matthus

Beloved Dionysos - 75th Birthday Tribute of Siegfried Matthus

Siegfried Matthus, Composer - Ola Rudner, Conductor - Aris Argiris, Baritone - Württembergische Philharmonie Reutlingen

| | |
| --- | --- |
| GEN 89144 | |