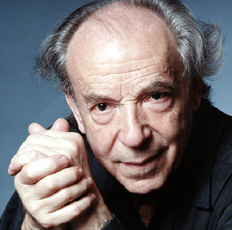 PAUL BADURA-SKODA is one of the most important pianists of our time. A legendary artist who has been heard in all the world´s greatest concert halls, and for years was the pianist who had the largest number of records available in the market. His musical personality is characterized by complete immersion in music, a passionate search for the essential, and a sense of artistic responsibility. It soon becomes evident to any listener that he loves music with every part of his being.

In 1945, Badura-Skoda entered the Vienna Conservatory, and two years later won first prize in the Austrian Music Competition and a scholarship which allowed him to study with Edwin Fischer. These years laid the foundation for Badura-Skoda´s artistic future. In 1949, Wilhelm Furtwängler and Herbert von Karajan became aware of Badura-Skoda´s outstanding talent, and invited him to play concerts. Practically overnight the young viennese became a world-famous artist.

Paul Badura-Skoda has recorded a vast repertoire – more than 200 LPs and dozens of compact discs including the complete cycles of the piano sonatas of Mozart, Beethoven and Schubert.
The Artist's Homepage:
http://www.badura-skoda.cc

Franz Schubert

Sonata in D major D 850 "Gastein Sonate" & Drei Klavierstücke D 946

Paul Badura-Skoda, Piano

| | |
| --- | --- |
| GEN 16425 | |
Paul Badura-Skoda Plays Ludwig van Beethoven

The Last Three Piano Sonatas and "Hammerklavier" Sonata No. 29

Paul Badura-Skoda, Piano

| | |
| --- | --- |
| GEN 14331 | |
Paul Badura-Skoda plays Franz Schubert

Sonata in B-flat major, D 960 Drei Klavierstücke, D 946

Paul Badura-Skoda, Piano

| | |
| --- | --- |
| GEN 12251 | |
FREE LISTENING: CD Sampler

10 Years GENUIN classics

Ramón Ortega Quero, Oboe - cello project - Eckart Runge, Jacques Ammon - Viviane Chassot, Accordion - Kit Armstrong, Piano - Andrej Bielow, violin - Adrian Brendel, cello - Amaryllis Quartett - Tobias Koch, Piano - Paul Badura-Skoda, Piano - Nicolas Altstaedt, Cello - José Gallardo, piano - Michael Schäfer, Piano - Toutes Suites - Camerata Musica Limburg - Dresdner Philharmonie - Michael Sanderling, Conductor

| | |
| --- | --- |
| FREE LISTENING | |
Paul Badura-Skoda and Friends

Chamber Music / 4 CD-Box

Paul Badura-Skoda, Piano - David Oistrach, violin - Jean Fournier, Violin - Antonio Janigro, Cello - Wolfgang Schneiderhan, Violin - Küchl Quartett

| | |
| --- | --- |
| GEN 11200 | |
Johannes Brahms

Piano Concerto No. 1

Paul Badura-Skoda, Piano - Felix Korobov, Conductor - Orchestra of the Stanislavsky and Nemirovich-Danchenko Moscow Academic Music Theatre

| | |
| --- | --- |
| GEN 89155 | |
Joseph Haydn

Three Piano Concertos (No. 1 F major, No. 2 G major, No. 3 D major), recorded in 2008 in Vienna

Paul Badura-Skoda, Piano - Wiener Concertverein

| | |
| --- | --- |
| GEN 89145 | |
Franz Schubert

Sonata in A Minor D 784 Sonate in A Major D 959, recorded in 2008 in Vienna

Paul Badura-Skoda, Piano

| | |
| --- | --- |
| GEN 88125 | |
Ludwig van Beethoven: The Five Piano Concertos

An 80th Birthday tribute Historic Recording 1951–58, was awarded the "Diapason d'Or"!

Paul Badura-Skoda, Piano - Hermann Scherchen, Conductor - Orchester der Wiener Staatsoper

| | |
| --- | --- |
| GEN 87102 | |
The Sydney Recital

Piano works of Bach, Brahms, Bartók and Debussy - Live recording of the recital at the Sydney Opera House, 1982

Paul Badura-Skoda, Piano

| | |
| --- | --- |
| GEN 86056 | |
Franz Schubert: Three Piano Sonatas

Recorded 1972, First- time release!

Paul Badura-Skoda, Piano

| | |
| --- | --- |
| GEN 86057 | |
Intimate Readings of Schubert

Impromptus and Moments Musicaux, recorded in 2005

Paul Badura-Skoda, Piano

| | |
| --- | --- |
| GEN 86055 | |
The Last Recital

David Oistrakh and Paul Badura-Skoda in a live recording at the Musikverein Concert Hall in Vienna on May 29, 1974: Oistrakh's last recital. Was awarded the "Diapason d'Or"!

David Oistrach, violin - Paul Badura-Skoda, Piano

| | |
| --- | --- |
| GEN 85050 | |
A Musical Biography

Recordings and live concerts of the world famous pianist. Plus an extra CD containing an exclusive interview of Badura-Skoda from 2003.

Paul Badura-Skoda, Piano

| | |
| --- | --- |
| GEN 03016 | |