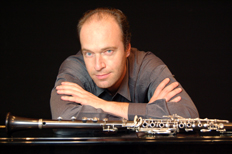 Born 1964 in Brazil, François Benda comes from a long line of professional musicians. He completed his studies in Graz and Geneva (clarinet, composition, conducting) and gave his solo debut in 1988 at Zurich's Tonhalle and at the Victoria Hall in Geneva. The Neue Zürcher Zeitung (NZZ) published the following review: "His playing moved with authority between just barely perceptible pianissimi and dramatic, nearly ecstatic crescendi and was brilliant at every moment."

In 1991 François Benda was awarded the "Premio internationale per le Arti dello Spettaccolo" in Rome. Today he performs at all the important music venues (Berlin's Philharmonie, the Musikverein in Vienna, Concertgebouw Amsterdam, Wigmore Hall London, Herkulessaal in Munich, at the Cologne Philharmonie, and the Tonhalle in Zurich) and appears as clarinet soloist with many leading orchestras (Bavarian Radio Symphony Orchestra, WDR Radio Symphony Orchestra Cologne, the Basel Symphony Orchestra, and Vienna's Kammerphilharmonie).

François Benda is a highly sought-after performing artist both as a soloist and chamber music partner and regularly appears as a guest artist at music festivals such as the Berliner Festwochen, Styriarte, Musicades Lyon, and the Pentecost Concerts in Ittingen, Switzerland. His chamber music partners include Heinz Holliger, Paul Badura-Skoda, Bruno Giuranna, Isabelle Faust, Joseph Silverstein, and Bruno Canino.

His comprehensive discography includes the complete works for clarinet by Johannes Brahms, works for clarinet and orchestra by Carl Nielsen, Claude Debussy, Ferruccio Busoni, and Gioachino Rossini, a CD commemorating Robert Schumann's 200th birthday, and a CD showcasing French clarinet repertoire. A recording series presenting the complete works for clarinet and orchestra by Krzysztof Penderecki and a CD featuring Benda performing Wolfgang Amadeus Mozart's Clarinet Concerto with a new basset clarinet will both be released as part of the Artist Consort Edition.

François Benda moves easily between classical and New Music repertoire, both as a clarinetist (in collaboration with and performing premier and first performances of works by Heinz Holliger, Elliott Carter, Luciano Berio, Krzysztof Penderecki, Georg Friedrich Haas, Wolfgang von Schweinitz, and Bernhard Lang) and to an increasing extent as a conductor. In addition to his solo career, François Benda is also professor at the Universität der Künste in Berlin and teaches at the Hochschule für Musik in Basel as well as the Conservatorio della Svizzera italiana in Lugano.

Fairy Tales Without Words

Works by Robert Schumann, Hans Ulrich Lehmann and György Kurtág

Jürg Dähler, violin, viola - François Benda, clarinet - Gilles Vonsattel, piano

| | |
| --- | --- |
| GEN 17485 | |
Kind of Jazz

Works by George Gershwin, Joseph Horovitz, Erwin Schulhoff, Leonard Bernstein, Daniel Schnyder

François Benda, clarinet - Sebastian Benda, Piano

| | |
| --- | --- |
| GEN 17465 | |
Wolfgang Amadeus Mozart

Chamber Musiv With Winds

Swiss Chamber Soloists - Felix Renggli, Flute - Heinz Holliger, Oboe, composer - François Benda, clarinet - Esther Hoppe, violin - Daria Zappa, violin - Jürg Dähler, violin, viola - Daniel Haefliger, cello

| | |
| --- | --- |
| GEN 14319 | |
Messiaen Chamber Music

Quatuor pour la fin du temps, Le merle noir, Vocalise-Étude, Thème et variations

François Benda, clarinet - Ivan Monighetti, Cello - Cédric Pescia, Piano - Felix Renggli, Flute - Nurit Stark, Violin

| | |
| --- | --- |
| GEN 12258 | |
Robert & Clara Schumann

Romances and Fantasies

François Benda, clarinet - Elina Gotsouliak, Piano

| | |
| --- | --- |
| GEN 89146 | |
Clarinet and Orchestra

works by Rossini, Debussy, Busoni and Nielsen

François Benda, clarinet - Christian Benda - Slowakische Philharmonie

| | |
| --- | --- |
| GEN 88128 | |
Johannes Brahms

Complete Works for Clarinet

François Benda, clarinet - The Benda Musicians

| | |
| --- | --- |
| GEN 88127 | |