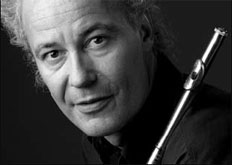 Born in Basle, Switzerland, Felix Renggli studied flute with Gerhard Hildenbrand, Aurèle Nicolet and Peter-Lukas Graf. He completed his studies at the State Music Conservatory in Basle, Switzerland, obtaining a Music Performance degree and was subsequently engaged as a flute soloist with various orchestras such as the Lucerne Festival Orchestra, the Zurich Tonhalle Orchestra, the Municipal Orchestra of St. Gallen, the Orquesta Gulbenkian Lissabon, and the Chamber Orchestra of Europe.

Renggli has won prizes at national and international music competitions and frequently gives masterclasses in Europe, South America (Argentina and Brazil), Japan, China, and Australia. He performs at numerous concerts as a soloist and chamber musician throughout Europe, South America, the US, Japan, Korea and China. In addition he has performed as a guest artist at international festivals such as in Paris, Madrid, Lucerne, Lockenhaus, Rio de Janeiro, and Akiyoshidai. His regular collaboration with the oboist, conductor and composer Heinz Holliger has profoundly influenced his work as a performing artist.

In 1994 Renggli was appointed to succeed Peter-Lukas Graf as Professor for Flute and Chamber Music at the Musikhochschule Basel. His repertoire extends from New Music (many premiere performances) to the classical chamber music and solo repertoire all the way to performances of Early Music on authentic period instruments. His CD recordings with artists and ensembles such as Ensemble Contrechamps, Heinz Holliger, Camerata Bern, the Arditti Quartet, Jan Schultsz, Cologne's "Nova Stravaganz," Mikayel Balyan, the Swiss Chamber Soloists have appeared on well-known classical music labels. Together with co-founders cellist Daniel Haefliger and violist Jürg Dähler, since 1999 Felix Renggli has shared the role of Artistic Director of the "Swiss Chamber Concerts," Switzerland's first nationwide concert series. In the fall of 2004 he became professor at the Freiburg Musikhochschule in Germany.
The Artist's Homepage:
http://www.felixrenggli.com

Flute Concertos

by Carl Philipp Emanuel Bach and François Devienne

Felix Renggli, Flute - Brian Dean, Concertmaster - Chamber Academy Basel

| | |
| --- | --- |
| GEN 15338 | |
Wolfgang Amadeus Mozart

Chamber Musiv With Winds

Swiss Chamber Soloists - Felix Renggli, Flute - Heinz Holliger, Oboe, composer - François Benda, clarinet - Esther Hoppe, violin - Daria Zappa, violin - Jürg Dähler, violin, viola - Daniel Haefliger, cello

| | |
| --- | --- |
| GEN 14319 | |
Messiaen Chamber Music

Quatuor pour la fin du temps, Le merle noir, Vocalise-Étude, Thème et variations

François Benda, clarinet - Ivan Monighetti, Cello - Cédric Pescia, Piano - Felix Renggli, Flute - Nurit Stark, Violin

| | |
| --- | --- |
| GEN 12258 | |
Fables

Works by W. F. Bach, A. Ginastera, R. Suter, A. Moeschinger

Felix Renggli, Flute - Heinz Holliger, Oboe, composer

| | |
| --- | --- |
| GEN 11211 | |
Works for flute solo

by Johann Sebastian Bach, Carl Ph. E. Bach and Heinz Holliger

Felix Renggli, Flute - Heinz Holliger, Oboe, composer

| | |
| --- | --- |
| GEN 88129 | |
Franz Schubert

Works for Flute and Piano

Felix Renggli, Flute - Mikayel Balyan, fortepiano

| | |
| --- | --- |
| GEN 88124 | |