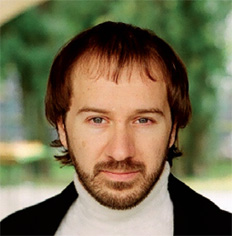 Pietro Massa (Italy) is born in Milan on March 6th 1973.
He studied Piano Performance in Paris with Aldo Ciccolini and Composition in his native town with Bruno Bettinelli.
In 1999 he moved to Berlin. The capital of Germany became centre of his life and his base of an international career in which he has since given some 200 solo recitals and concerts with orchestras in various parts of the world: Germany, Spain, France, Italy, Luxembourg, the United Kingdom, Iceland, Austria, Slovenia, Croatia, Serbia and Montenegro, Romania, Bulgaria, Turkey, Ukraine, Kazakhstan, Japan, the United States, Uruguay and Brazil.
His repertoire for piano and orchestra includes twenty piano concertos which he has performed or is scheduled to play with the following orchestras: the Neubrandenburger Philharmonie (Germany); the Vienna Women's Chamber Orchestra (Austria); the Bacau Philharmonic Orchestra (Romania); the Eskisehir Symphony Orchestra (Turkey);
the Astana Music Academy Soloists (Kazakhstan); Forlě Orchestra »Bruno Maderna« (Italy); the Kiev »Akademia« Orchestra Soloists, the Orchestra of the Opera Theatre of Dniepropetrovsk, the Symphony Orchestra of the National Theatre of Kharkov (Ukraine).
He has performed under the baton of conductors such as Stefan Malzew (Germany), Vitaly Kutzenko, Natalya Ponomazchuk (Ukraine), Ender Sakpinar (Turkey), Felix Carrasco (Mexico), Abzal Mukhitdinov (Kazakhstan), Massimo Alessio Taddia and Daniele Giorgi (Italy). He has also collaborated with the Rachmaninoff String Quartet (Russia), the Lamy String Quartet (Japan), and the 'Staatskapelle' soloists in Berlin (Germany).
The Artist's Homepage:
http://www.pietromassa.com/

Ferruccio Busoni

Concerto for Piano and Orchestra with Male Choir in C major, Op. 39

Pietro Massa, Piano - Ernst Senff Chor Berlin - Stefan Malzew - Neubrandenburger Philharmonie - Philharmonischer Chor Neubrandenburg

| | |
| --- | --- |
| GEN 88122 | |
Sergei Rachmaninoff

Piano Concerto No. 3, op. 30 Symphonic Dances, op. 45

Pietro Massa, Piano - Orchestra Bruno Maderna - Daniele Giorgi

| | |
| --- | --- |
| GEN 88112 | |