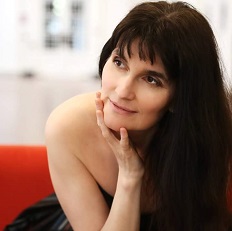 German pianist Elisaveta Blumina, an Echo Klassik prizewinner and Artistic Director of the Hamburg International Chamber Music Festival, is one of the outstanding musicians of the younger generation who, uninfluenced by any cult of stardom, prefer to follow their own path. Yet her musical career began at the same time as her great passion for ballet. While still a child in St. Petersburg, she was accepted at the renowned Vaganova ballet academy and was resolved to become a ballerina. But on her doctor's recommendation, who predicted her future height, she was advised to return to the Special Musical School.
She began her training at the Rimsky-Korsakov Saint Petersburg State Conservatory, where she studied piano, chamber music, and vocal accompaniment. She later continued her studies at the University of Music and Theater Hamburg and the Bern Conservatory. Her teachers included such major international musical figures as Evgeni Koroliov, Sir András Schiff, Radu Lupu, and Bruno Canino. Blumina achieved international recognition with performances at New York's Carnegie Hall, the Berlin Philharmonie, Laeiszhalle in Hamburg, Beethovenhalle Bonn, and National Concert Hall Dublin.
She is one of the leading interpreters of music of the 20th and 21st centuries. Her recordings of the works of Polish-Jewish composer Mieczyslaw Weinberg have won particular international acclaim as Blumina has devoted herself tirelessly to rediscovering his legacy. A series of CDs featuring Weinberg's piano and chamber music works is currently in preparation. In addition, she records Soviet and modern Russian repertoire.
As a highly sought-after chamber musician—as testified by 26 CD releases to date—her partners include many renowned soloists and ensembles. She is one of the founding members of the Blumina Ensemble. Joined by Blumina to form a quintet, Berlin's Clair-Obscur Saxophone Quartet presents concerts with the title "Blu(e)mina." In addition, she is the regular piano partner of the Staatskapelle Berlin Wind Quintet and a popular and regular guest at international festivals, including those in Verbier and Schleswig-Holstein; she was also invited by Gidon Kremer to perform in Lockenhaus and to teach at the Kronberg Academy.
Along with her involvement with the Hamburg Chamber Music Festival, she is an adviser for the concert series of the Neue Synagoge Gröbzig Museum and, in 2015, founded her own chamber music festival, the Giluim Festival, in Schönebeck, which is dedicated to cultivating and preserving the forgotten Jewish musical tradition ("verfemte Musik"). Elisaveta Blumina also has a close relationship with the opera studio of the Berlin State Opera; rising young singers who study at the studio present regular guest performances at the Hamburg Opera Salon, which is led by Blumina.
The Artist's Homepage:
http://www.blumina.com/

Irish Holidays

Works by Bax, Sweeney, Trimble, Barry, Ferguson, Moriarty, Stanford and Wilson

John Finucane, Clarinet - Elisaveta Blumina, Piano

| | |
| --- | --- |
| GEN 18495 | |
French Holidays

Works by C. Debussy, J. Françaix, G. Grovlez, G. Pierné, F. Poulenc, C. Saint-Saëns and C.-M. Widor

John Finucane, Clarinet - Elisaveta Blumina, Piano

| | |
| --- | --- |
| GEN 17451 | |
La flûte enchantée

Works by Claude Debussy, César Franck and Joseph Jongen

Hans-Udo Heinzmann, flute - Elisaveta Blumina, Piano

| | |
| --- | --- |
| GEN 14318 | |
Pierné . Gade . Prokofiev

Grand Sonatas for Flute

Elisaveta Blumina, Piano - Hans-Udo Heinzmann, flute

| | |
| --- | --- |
| GEN 10173 | |
Romantic Flute

Flute Sonatas by Max Meyer-Olbersleben, Julius Rietz and John Francis Barnett

Hans-Udo Heinzmann, flute - Elisaveta Blumina, Piano

| | |
| --- | --- |
| GEN 85517 | |