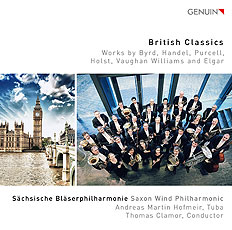 | | |
| --- | --- |
| William Byrd (1539/40 or 1543–1623) | |
| The Earle of Oxford's Marche (probably after 1588) | |
| George Frideric Handel (1685–1759) | |
| Music for the Royal Fireworks, HWV 351 (Suite in six movements) (1749) | |
| Ouverture | |
| Bourrée | |
| La Paix | |
| La Réjouissance | |
| Menuets I/II | |
| Henry Purcell (1659–1695) | |
| from Suite from The Fairy-Queen (1692/95) | |
| Act IV: Symphony | |
| Act I: Overture | |
| Second Music: Air and Rondeau | |
| Act V: Entry Dance and Symphony | |
| Gustav Holst (1874–1934) | |
| First Suite for Military Band, Op. 28, No. 1 (1909) | |
| Chaconne | |
| Intermezzo | |
| March | |
| Ralph Vaughan Williams (1872–1958) | |
| Concerto for Bass Tuba and Orchestra (1953–54) | |
| Prelude | |
| Romanza | |
| Finale | |
| Edward Elgar (1857–1934) | |
| from Variations on an Original Theme, Op. 36, "Enigma Variations" (1899) | |
| Variation IX "Nimrod" | |
| Edward Elgar | |
| Pomp and Circumstance March, Op. 39, No. 1 (1901) | |
| | |
Works by Byrd, Handel, Purcell, Holst, Vaughan Williams and Elgar
Sächsische Bläserphilharmonie
Andreas Martin Hofmeir, Tuba
Thomas Clamor, Conductor


In stock, shipping on January 8th.

We offer free shipping worldwide!
Please read our General Terms and Conditions and Privacy Statement carefully.


The Saxon Wind Philharmonic presents music that appeals directly to the heart on its new CD: English works from early baroque to classical modernism. The only classical orchestra in Germany to perform exclusively in symphonic wind instrumentation is supported by the world-class tubaist and ECHO Classic prizewinner Andreas Martin Hofmeir. The musicians, headed by Chief Conductor Thomas Clamor, have already released several CDs with national classics, including music from France, the USA, and Russia. The unique English hues, the proximity to folk music, and the connection to tradition can be found on the new CD in the works of William Byrd and Henry Purcell as well as in the music of Gustav Holst and Edward Elgar. And the exceptional artist Andreas Martin Hofmeir plays Ralph Vaughan-Williams' Tuba Concerto with incomparable ease.