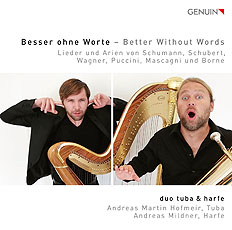 | | |
| --- | --- |
| Robert Schumann (1810–1856) | |
| Adagio und Allegro op. 70 (1849) | |
| Robert Schumann | |
| Der Nussbaum op. 25/3 (1840) | |
| Robert Schumann | |
| Die Tochter Jephtas op. 95/1 (1849) | |
| Robert Schumann | |
| Loreley op. 53/2 (1840) | |
| Robert Schumann | |
| An den Mond op. 95/2 (1849) | |
| Franz Schubert (1797–1828) | |
| Gretchen am Spinnrade, D 118 (1814) | |
| Franz Schubert | |
| Gretchen am Spinnrade genderpolitisch korrekt | |
| Franz Schubert | |
| Ständchen, D 957/4 (1828) | |
| Franz Schubert | |
| Harfenspieler I, D 478 (1816) | |
| Pietro Mascagni (1863–1945) | |
| aus: Cavalleria Rusticana (1890) | |
| Intermezzo sinfonico | |
| Richard Wagner (1813–1883) | |
| aus: Tannhäuser (1842–45) | |
| Lied an den Abendstern | |
| Giacomo Puccini (1858–1924) | |
| aus: Tosca (1895–1899) | |
| E lucevan le stelle | |
| Vissi d'arte | |
| François Borne (1840–1920) | |
| Fantaisie brillante sur Carmen (1880) | |
| | |
Lieder and Arias by Schumann, Schubert,
Wagner, Puccini, Mascagni and Borne

Andreas Martin Hofmeir, Tuba
Andreas Mildner, Harp


In stock, shipping in 1-2 days.

We offer free shipping worldwide!
Please read our General Terms and Conditions and Privacy Statement carefully.








Tosca and Tannhäuser, lieder by Schumann and Schubert—interpreted by a tubist and a harpist? Without any singing at all? Exactly! On the new GENUIN CD by Andreas Martin Hofmeir and Andreas Mildner, the name says it all: Better without words humorously offers arrangements of lieder and arias. It's a bit like Christmas and Easter at the same time! The ECHO Classic Winner and the exceptional harpist play with passion and with unheard-of perfection—as the only tuba-harp duo in the world. Until now, angelic singing was only accompanied by the harp, but now ...