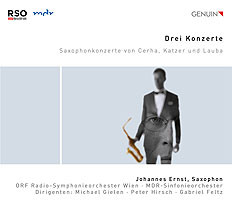 | | |
| --- | --- |
| Friedrich Cerha (*1926) | |
| Konzert für Sopransaxophon und Orchester (World Premiere Recording) | |
| Prélude | |
| Perpetuum mobile | |
| Notturno | |
| Burleske | |
| Quodlibet und Epilog | |
| Georg Katzer (1935–2019) | |
| La Mettrie III oder Der Abend der Maschinen (World Premiere Recording) | |
| Christian Lauba (*1952) | |
| Dies irae (World Premiere Recording) | |
| | |
Saxophone Concertos by Cerha, Katzer and Lauba
Johannes Ernst, Saxophone
ORF Radio Sinfonieorchester, Orchestra
MDR-Sinfonieorchester
Michael Gielen, Conductor
Peter Hirsch, Conductor
Gabriel Feltz, Conductor


In stock, shipping in 1-2 days.

We offer free shipping worldwide!
Please read our General Terms and Conditions and Privacy Statement carefully.








Johannes Ernst's saxophone is a true chameleon, and on his GENUIN CD, he presents works for alto and soprano saxophone by Friedrich Cerha, Georg Katzer and Christian Lauba. Perhaps the most versatile instrument of all, it is capable of producing lyrical cantilenas and irrepressible rhythms but also of extreme experiments of unheard-of expressiveness. Together with the radio orchestras from Leipzig and Vienna and three of the most renowned new music conductors, the fabulous musician Johannes Ernst plays truly contemporary music, each an individual, magical and sonorous portrait of his instrument.