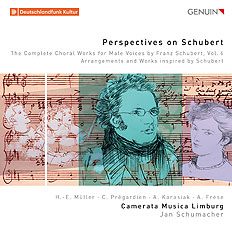 | | |
| --- | --- |
| Franz Schubert (1797–1828) | |
| An die Musik D 547 | |
| Friedrich Silcher (1789–1860) | |
| Der Lindenbaum | |
| Mårten Jansson (*1965) | |
| Erlkönig | |
| Fritz Spies (1892–1981) | |
| Abendfrieden | |
| Alwin Schronen (*1965) | |
| Ein heller, lichter, schöner Tag | |
| Jakob Christ (1895–1974) | |
| Im Abendrot | |
| Johannes Brahms (1833–1897) | |
| Einförmig ist der Liebe Gram, Op. 113 No. 13 | |
| Nicola Campogrande (*1969) | |
| Amore | |
| Franz Liszt (1811–1886) | |
| Die Allmacht | |
| Franz Herzog (*1962) | |
| Jede Nacht | |
| Peter Cornelius (1824–1874) | |
| Grablied | |
| Christopher Tarnow (*1984) | |
| Nachtlied | |
| Granville Bantock (1868–1946) | |
| Rest | |
| Granville Bantock (1868–1946) | |
| By the sea | |
| Thomas Thurnher (*1966) | |
| Was vom Traume blieb, Op. 54 | |
| Franz Abt (1819–1885) | |
| Morgenständchen | |
| Andreas Schenck (*1951) | |
| Trinklied | |
| Walter L. Born (*1973) | |
| An die Musik | |
| | |
The Complete Choral Works for Male Voices
by Franz Schubert, Vol. 6
Arrangements and Works inspired by Schubert
Camerata Musica Limburg
Andreas Frese, Piano
Hanna-Elisabeth Müller, Soprano
Andreas Karasiak, Tenor
Christoph Prégardien, Tenor


In stock, shipping in 1-2 days.

We offer free shipping worldwide!
Please read our General Terms and Conditions and Privacy Statement carefully.








The time has come: The Camerata Musica Limburg is releasing its latest CD with GENUIN featuring works by Franz Schubert for male choir. Since 2015, enchanted by their warm, round and flawlessly refined sound, we have listened enthusiastically to this vocal ensemble with every release. The sixth and final production now extends beyond Schubert: it unites arrangements and pieces inspired by him. They range from the romantic, sonorous arrangements of Silcher and Brahms to the first recordings of music by Mεrten Jansson and Christopher Tarnow. For one wonderful last time, "To the music ..."