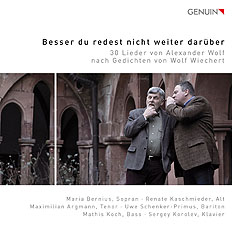 | | |
| --- | --- |
| Alexander Wolf (*1969) | |
| Sternenstunde für Sopran und Klavier, WolfWV 20, 2015 | |
| Abendstimmung | |
| Johannisnacht | |
| Klare Nacht | |
| Nach der Sonnenfinsternis | |
| Sappho | |
| Nachts | |
| Alexander Wolf | |
| Liebe für Alt und Klavier, WolfWV 30, 2017 | |
| Liebeserklärung | |
| Tanz du | |
| Beschreibung eines Interesses oder einer Liebe | |
| Blutprobe | |
| Les Nymphéas | |
| Sanddorn | |
| Alexander Wolf | |
| Blumen für Tenor und Klavier, WolfWV 26, 2016 | |
| Frühling | |
| Akelei | |
| Rose | |
| Nachmittag | |
| Vergiss | |
| Muse | |
| Alexander Wolf | |
| Augenblick für Bariton und Klavier, WolfWV 11, 2011 | |
| Augenblick | |
| Romanze | |
| Mai | |
| Altweibersommer | |
| Olymp | |
| Restsüße | |
| Alexander Wolf | |
| Harmonie für Bass und Klavier, WolfWV 31, 2018 | |
| Passacaglia c-Moll, BWV 582 | |
| Wie ein Tag | |
| Klarinettenkonzert | |
| Im Kolbenholz | |
| Neunte | |
| Mohn | |
| Alexander Wolf | |
| Lieder ohne Worte | |
| Poeta laureatus, 2018 | |
| Esperanza, Wolf WV 22, 2015 | |
| Epilog, 2018 | |
| | |
Best / Not talk about this anymore
30 songs by Alexander Wolf based on poems by Wolf Wiechert
Alexander Wolf, Composer
Wolf Wiechert, Poet
Maria Bernius, Soprano
Renate Kaschmieder, Mezzo-soprano and Alto
Maximilian Argmann, Tenor
Uwe Schenker-Primus, Baritone
Mathis Koch, Bass-Baritone
Sergey Korolev, Piano


In stock, shipping in 1-2 days.

We offer free shipping worldwide!
Please read our General Terms and Conditions and Privacy Statement carefully.







A CD entirely devoted to world premiere recordings of songs! A team of top vocal soloists comes together for this GENUIN release of works by composer Alexander Wolf, who created his miniatures in close collaboration with poet Wolf Wiechert. Representing all vocal ranges, the singers breathe delicate life into these little treasures: on bats and stardust, pine trees, Mount Olympus, and the solar eclipse. Powerful word and sound images presented in an easily accessible, yet clearly contemporary musical language—a truly stand-out edition!