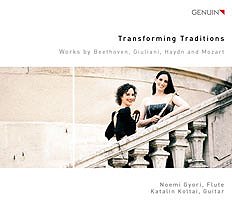 | | |
| --- | --- |
| Joseph Haydn (1732–1809) | |
| Sonata in D major, Hob. X VI:37 (ca. 1780) | |
| Allegro con brio | |
| Largo e sostenuto | |
| Finale – Presto ma non troppo | |
| Wolfgang Amadeus Mozart (1756–1791) | |
| Fantasia No. 3 in D minor, K. 397 (1782) | |
| Fragment, with an ending presumably written by August Eberhard Müller (1767–1817) | |
| Ludwig van Beethoven (1770–1827) | |
| Sonata No. 26 in E-flat major, Op. 81a "Les Adieux" (1809–10) | |
| Das Lebewohl (Adagio – Allegro) | |
| Abwesenheit (Andante espressivo) | |
| Das Wiedersehen (Vivacissimamente) | |
| Joseph Haydn | |
| Sonata in A major, Hob. X VI:30 (ca. 1774–76) | |
| Allegro – Adagio | |
| Tempo di Minuet, Variations 1–6 | |
| Mauro Giuliani (1781–1829) | |
| Grand Duo Concertant for Flute and Guitar, Op. 85 (ca.1817) | |
| Allegro moderato | |
| Andante molto sostenuto | |
| Scherzo – Vivace | |
| Allegretto espressivo | |
| | |
Works by Beethoven, Giuliani, Haydn and Mozart
Noemi Gyori, Flute
Katalin Koltai, Guitar


In stock, shipping on January 7th.

We offer free shipping worldwide!
Please read our General Terms and Conditions and Privacy Statement carefully.








It's rare for the kiss of the muses to reach us in such pure and unadulterated form as it does on this CD featuring treasures for flute and guitar. On their GENUIN debut release, Noemi Gyori (flute) and Katalin Koltai (guitar) present above all their own arrangements of classical works: originally written for piano, these pieces by Haydn, Mozart, and Beethoven flow so clearly and naturally from the speakers that the Viennese composers seem to have been mistaken in their choice of instrument . . . A true dialogue emerges from the dynamic conversation between the beautifully carved melodies in the flute and the crystal-clear timbres in the guitar. If only this joy of listening would never end!