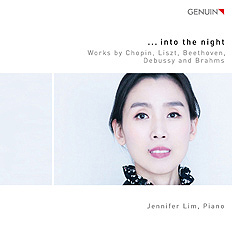 | | |
| --- | --- |
| Frédéric Chopin (1810–1849) | |
| Nocturne in E-flat major, Op. 9, No. 2 (1830–1831) | |
| Franz Liszt (1811–1886) | |
| Liebestraum No. 3 in A-flat major, "Oh lieb, so lang du lieben kannst," S. 541/3 (1850) | |
| Ludwig van Beethoven (1770–1827) | |
| Piano Sonata No. 14 in C-sharp minor, "Moonlight Sonata," Op. 27, No. 2 (1801) | |
| Adagio sostenuto | |
| Allegretto—Trio | |
| Presto agitato | |
| Frédéric Chopin | |
| Nocturne in D-flat major, Op. 27, No. 2 (1836) | |
| Frédéric Chopin | |
| Nocturne in C-sharp minor, Op. posth. (1830) | |
| Claude Debussy (1862–1918) | |
| Suite bergamasque, L. 75 (1890–1905) | |
| III. Clair de lune | |
| Frédéric Chopin | |
| Nocturne in B major, Op. 62, No. 1 (1845–1846) | |
| Johannes Brahms (1833–1897) | |
| Piano Sonata No. 3 in F minor, Op. 5 (1853) | |
| II. Andante espressivo | |
| | |
Works by Chopin, Liszt, Beethoven, Debussy and Brahms

In stock, shipping on January 7th.

We offer free shipping worldwide!
Please read our General Terms and Conditions and Privacy Statement carefully.








Jennifer Lim presents a quiet, introspective piano CD with GENUIN: just in time for Valentine's Day, her recording of Romantic works such as Liszt's Liebestraum, Beethoven's Moonlight Sonata and Debussy's Clair de Lune is being released. Lim's transparent playing allows these classics to radiate from within, lending them contours so that the well-known works receive a new glow. Several nocturnes and a small, fine Andantino by Brahms round off a program that, according to the interpreter's wishes, allows us to travel "into the night" – Into its magic, mysterious darkness...