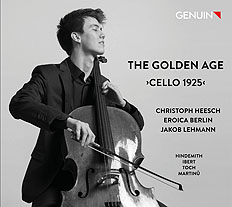 | | |
| --- | --- |
| Paul Hindemith (1895–1963) | |
| Kammermusik Nr. 3 op. 36 Nr. 2 (1924–1925) | |
| I. Majestätisch und stark. Mäßig schnelle Achtel | |
| II. Lebhaft und lustig | |
| III. Sehr ruhige und gemessen schreitende Viertel | |
| IV. Mäßig bewegte Halbe. Munter, aber immer gemächlich | |
| Jacques Ibert (1890–1962) | |
| Konzert für Violoncello und Blasorchester (1925) | |
| I. Pastorale | |
| II. Romance | |
| III. Gigue | |
| Ernst Toch (1887–1964) | |
| Konzert für Violoncello und Kammerorchester op. 35 (1924) | |
| I. Allegro assai moderato | |
| II. Agitato | |
| III. Adagio | |
| IV. Allegro vivace | |
| Bohuslav Martinu (1890–1959) | |
| Concertino für Violoncello, Bläser, Klavier und Schlagzeug c-Moll H. 143 | |
| | |
The Golden Age – Cello 1925
Works by Paul Hindemith, Jacques Ibert, Ernst Toch and Bohuslav Martinu
Christoph Heesch, Cello
Eroica Berlin
Jakob Lehmann, Conductor


Shipping on 7.9.2018.

We offer free shipping worldwide!
Please read our General Terms and Conditions and Privacy Statement carefully.


The young cellist Christoph Heesch is releasing a revolutionary CD on GENUIN. The prizewinner of the Fanny Mendelssohn Sponsorship Award plays four cello concertos from 1924-25, each of which is a sensation in itself. The composers Paul Hindemith, Jacques Ibert, Bohuslav Martinů and Ernst Toch wrote exciting music for an exciting time: they broke all conventions and put the solo instrument and orchestra in a new relationship to each other. Christoph Heesch throws himself into these virtuoso, melodious, cumbersome works with verve. In short: absolutely worthwhile works that you do not want to listen to anywhere else than from this CD.