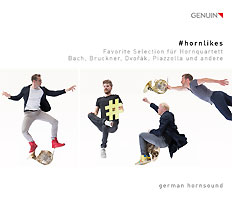 | | |
| --- | --- |
| #sebastianlikes | |
| Georg Friedrich Händel | |
| Vivo aus der "Wassermusik", Suite Nr. 2 HWV349 | |
| "Lascia chi'o pianga" aus "Rinaldo" HWV 7a/7v | |
| #sebastianlikes | |
| Giovanni Battista Pergolesi | |
| Stabat Mater dolorosa | |
| #stephanlikes | |
| Antonín Dvorák | |
| Largo aus der Sinfonie Nr. 9 e-Moll op. 95 "Aus der neuen Welt" | |
| #stephanlikes | |
| Anton Bruckner | |
| Drei Choräle (Andante–Alleluja–Gebet) | |
| #stephanlikes | |
| Felix Mendelssohn Bartholdy | |
| "Denn er hat seinen Engeln befohlen" aus "Elias" op. 70 | |
| Nocturno aus "Ein Sommernachtstraum" op. 61 | |
| #christophlikes | |
| Johann Sebastian Bach | |
| Allegro aus dem Brandenburgischen Konzert Nr. 2 F-Dur BWV 1074 | |
| #christophlikes | |
| Alessandro Marcello | |
| Adagio aus dem Konzert für Oboe und Orchester d-Moll | |
| #timolikes | |
| Anton Bruckner | |
| Scherzo aus der Sinfonie Nr. 4 Es-Dur | |
| #timolikes | |
| Giuseppe Verdi | |
| Offertorio aus "Messa da Requiem" | |
| #timolikes | |
| Astor Piazzolla | |
| Meditango | |
| #yourlikes | |
| Richard Wagner | |
| Waldweben aus "Siegfried" | |
| #yourlikes | |
| Franz Schubert | |
| Andante con moto aus der Sinfonie h-Moll D 759 | |
| #yourlikes | |
| Engelbert Humperdinck | |
| Abendsegen aus "Hänsel und Gretel" | |
| #tonmeisterlike | |
| Carl Maria von Weber | |
| Chor der Landsleute aus "Der Freischütz" | |
| | |
Favorite Selection for Horn Quartet
Bach, Bruckner, Dvorák, Piazzolla and others
german hornsound, Horn Quartet


In stock, shipping in 1-2 days.

We offer free shipping worldwide!
Please read our General Terms and Conditions and Privacy Statement carefully.








The horns are let loose! In their fifth GENUIN release, the german hornsound brass ensemble has brought together their favorite works and those of their fan community. And we'd be hard-pressed to find a single work in the Western musical literature that doesn't sound at least as beautiful arranged for four horns as it does in the original. What's more, there's no need for troublesome singers, meddlesome conductors, and big stages for massive orchestras! In these splendid renditions, Handel's Rinaldo, Dvořák's Ninth Symphony, and Mendelssohn's Midsummer Night's Dream are both glorious and groovy, exquisite and ethereal, sophisticated and sexy. I like #hornlikes!