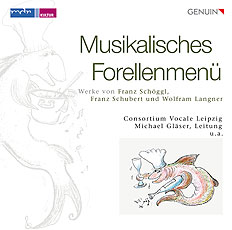 | | |
| --- | --- |
| Franz Schöggl (1930–1982) | |
| Die launige Forelle | |
| World Premiere Recording | |
| Franz Schöggl | |
| Forellenquintett A-Dur op. post. 114 D 667 | |
| 4. Satz | |
| Franz Schubert | |
| Die Forelle Des-Dur op. 32 D 550 | |
| Franz Schubert | |
| Forellenquintett A-Dur op. post. 114 D 667 | |
| 4. Satz / Bearbeitung für vier Hände von Hugo Ulrich | |
| Wolfram Langner (*1956) | |
| Die Neue launige Forelle | |
| World Premiere Recording | |
| | |
Musikalisches Forellenmenü
Works by Franz Schöggl, Franz Schubert and Wolfram Langner
Consortium Vocale
Michael Gläser
Andreas Hartmann, Violin
Liv Bartels, Viola
Anna Niebuhr, Cello
Christopher Beuchert, Double Bass
Rolf-Dieter Arens, Piano
Ulrike Fulde, Soprano
Heiko Reintzsch, Piano
Heidrun Clemen, Piano
Laetitia-Quartett


In stock, shipping in 1-2 days.

We offer free shipping worldwide!
Please read our General Terms and Conditions and Privacy Statement carefully.




The Consortium Vocale Leipzig invites us to dinner: the members of the MDR Radio Chorus offer up a menu of delectable "Variations on the Trout" – quite naturally, Schubert's Trout! And what's more, two are world premiere recordings, by Franz Schöggl and Wolfram Langner. Nouvelle cuisine, we could say… From revived Renaissance fare to Mediterranean cooking (Forella Italiana), Bohemian trout with dumplings à la Dvořák, and a recipe from molecular cuisine, Forella moderna. Head chef Michael Gläser, former director of the Bavarian Radio Symphony Chorus, has masterfully balanced all the flavors, serving up a world-class vocal menu – bon appetit!