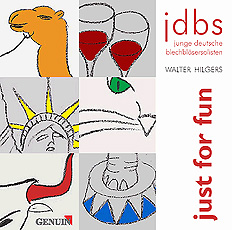 | | |
| --- | --- |
| Goff Richards | |
| Homage to the Noble Grape | |
| Champagne | |
| Chablis | |
| Chianti | |
| Fundador (and more Champagne) | |
| Chris Hazell | |
| Brass Cats | |
| Mr. Jums | |
| Jim Parker | |
| Londoner in New York | |
| Echos of Harlem | |
| The Chrysler Building | |
| Grand Central | |
| Radio City | |
| Chris Hazell | |
| Brass Cats | |
| Black Sam | |
| Borage | |
| traditional (arr: John Iveson) | |
| Londonderry Air | |
| Ellington/Tizol/Mills | |
| Caravan (arr: Richard Bissill) | |
| Zequinha Abreu | |
| Tico Tico (arr: John Iveson) | |
| Cole Porter | |
| Be a Clown (arr: Alan Fernie) | |
| | |
Groovy & smart music for brass ensemble by Cole Porter, Duke Ellington, Jim Parker and more
Junge Deutsche Blechbläsersolisten (JDBS)
Walter Hilgers, tuba / conductor


In stock, shipping in 1-2 days.

We offer free shipping worldwide!
Please read our General Terms and Conditions and Privacy Statement carefully.


Want to treat yourself to a champagne cocktail? Feeling like a light red wine-or do you swear by Chianti? Whatever your leanings, the newest Genuin CD delivers outstanding, virtuoso, and admittedly hip young brass sound. These premier German performers are ready to meet your every desire, one after the other. Just don't overdo it and get the morning-after blues... You need to be in top shape to join in on a world tour with these brass cats. Close your eyes and let the virtuoso brass playing carry you off to New York. Before you know it, you're suddenly in Londonderry! Get on the Duke Ellington caravan. Tico, Tico... Try out this disc for yourself-just be a clown and have some fun. Stirred - not shaken!