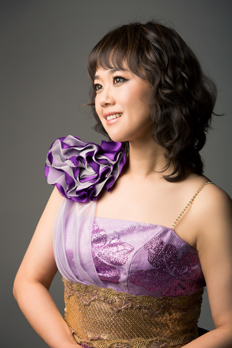 The coloratura soprano Yoora Lee-Hoff was born in Seoul (South Korea) and currently lives in Dresden. At the age of four, she began her piano training, and at the age of nine she started with violin lessons. She completed her violin studies in Seoul, Berlin and Leipzig. During her studies in Germany, her extraordinary voice was discovered. Upon recommendation, she began studying with Kammersängerin Regina Werner in Leipzig. She finished her post­graduate degree (Konzertexamen) with honors.

Even before completing her studies, her first opera engagements led her to the Leipzig Opera and the Landesbühnen Sachsen. Since then, she has sung as a guest at theaters such as the Staatsoperette Dresden and at various opera and operetta festivals. She performed several times at international music festivals such as the International Music Festival "MúsicaMallorca" in Palma de Mallorca (Spain).

While on the Viennese Johann Strauss Concert Gala Tours conducted by Herbert Prikopa, she sang on the most significant German and Swiss concert stages, including those at the Zurich Tonhalle, the Munich Residenz and the Berliner Philharmonie. Her concert engagements also led her to the Dresden Frauenkirche. In the last few years, Yoora Lee­-Hoff has become a thought­after and versatile guest in Germany and increasingly more in the USA, Canada, China, Japan and Korea. Her diverse repertoire stretches from opera, operetta and art song to sacred music with cantatas, oratorios and requiems.

Since her Korean background could not be expressed in her work with purely European music, a yearning for Korea often lingered. During her quest for her identity as an artist, she discovered Young Jo Lee's music and found in it great fulfillment. Hence, the recording of this CD of his music was a natural progression.

The Korean Art Song

Works of the composer Young Jo Lee

Yoora Lee-Hoff - Michael Schütze - Marie-Luise Kahle

| | |
| --- | --- |
| GEN 18602 | |