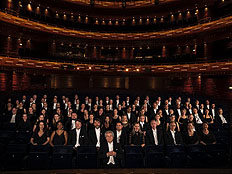 Königliche Kapelle Kopenhagen
The story of The Royal Danish Orchestra, often called the oldest orchestra in the world, is inextricably bound up with the history of Denmark as a cultural nation. Originally founded as a trumpeter corps for King Christian I of Denmark (1448–1481), the orchestra came to serve Denmark's succeeding monarchs, lending musical pomp and circumstance to the sovereign at public events of political significance.

During the course of the centuries, the ensemble managed to evolve from a trumpeter corps into a nuanced renaissance orchestra and finally into a modern symphony orchestra in its own right. The orchestra endured after the absolute monarchy was abolished in Denmark in 1849: Maintaining its royal name, it was handed over to the state, and remains highly regarded to this day as a cultural institution.

Apart from their invaluable contribution in opera, ballet, and theatre performances at The Royal Danish Theatre, The Royal Danish Orchestra has performed public symphonic concerts since the 1880s. It has also enjoyed great success as a touring orchestra, and in 2015 an internationally acclaimed tour took them to the Berlin Music Festival and Symphony Hall Birmingham, performing a program of Arnold Schoenberg's Erwartung in addition to works by two prominent Danish composers: Carl Nielsen (1865–1931) and Per Nørgård (b. 1932).

The orchestra regularly attracts renowned conductors and composers. Jean Sibelius, Leopold Stokowksi, Herbert von Karajan, Wilhelm Furtwängler, Erich Kleiber, and Leonard Bernstein all conducted The Royal Danish Orchestra during the 20 th century. In recent years, besides their collaboration with Hartmut Haenchen, the orchestra has worked with prominent conductors such as Mariss Jansons, Michail Jurowski, and Bertrand de Billy as well as with Alexander Vedernikov, the orchestra's incoming chief conductor.

Mystery

Anton Bruckner: Symphony No. 8 in C minor

Hartmut Haenchen, Conductor - Königliche Kapelle Kopenhagen

| | |
| --- | --- |
| GEN 18622 | |