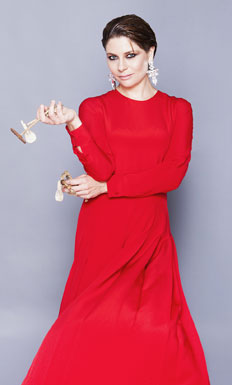 Irina Georgieva is one of the most outstanding piano students I have encountered during my 35 years of teaching. Her excellent sound, united with a stupendous technique, instinctive sense of style, strong personality and charisma, predestine Irina Georgieva for a great piano career.
Rudolf Buchbinder

Following her early success, both in competitions and as a soloist, Irina Georgieva, who was born in Sofia, Bulgaria, won first prize at the International Steinway Piano Competition in Berlin at the age of 16. She was accepted into the Sofia Conservatory to study with Marina Kapazinskaya, performed as a soloist with all the major orchestras in Bulgaria and perfected her performance technique through master classes with Lazar Berman and Dmitry Baschkirov. In 2001, she received a scholarship by the Dr. Gerber-ten Bosch Foundation to study at the Basel Music Academy in the master class of Rudolf Buchbinder. These seven years of study proved to be very important for her pianistic and artistic development. In 2006, Irina Georgieva was a laureate of the Concours Maria Canals. Two years later she was awarded the special prize for the "best performance of contemporary music" at the International Piano Competition of Her Royal Highness Princess Lalla Meryem in Rabat, Morocco. With a Rachmaninoff recital she completed her solo diploma in Basel with honors and subsequently took away first prize at the prestigious Kurt Leimer International Piano Competition in Zurich in 2008.

Irina Georgieva stands out among other young pianists of her generation through her "diversity of timbres, her singing cantilena, her musical power, the depth of her artistic conception and her impeccable sense of form" (Sofia Gubaidulina). The talent that she displayed at an early age has now fully matured: a virtuoso technique and an almost unlimited ability to express herself. Her repertoire ranges from baroque to contemporary music, although she is particularly interested in virtuoso piano music of the late 19th and 20th centuries marked by an expressive musical language, moods and differentiated timbres. Irina Georgieva has performed regularly in Switzerland, Italy, France, England, Morocco, the Balkan states as well as in South America.
The Artist's Homepage:
http://www.irinageorgieva.net
Ondine

Works by Robert Schumann and Maurice Ravel

Irina Georgieva, Piano

| | |
| --- | --- |
| GEN 16408 | |