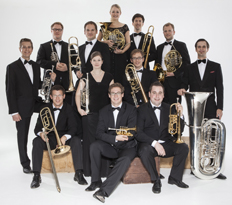 The brass ensemble 10forBrass was founded in 2010 by young musicians from across Germany. They have all been members of highly regarded international orchestras such as the Junge Deutsche Philharmonie, the Gustav Mahler Jugendorchester and the Festival Orchestra of the Schleswig-Holstein Music Festival. Many of them were members of orchestra academies including those of the Bayerische Staatsoper München, the Konzerthausorchester Berlin or the Berlin Philharmonic. Some of the musicians are now members of renowned German orchestras.

In 2011 10forBrass reached the finals of the German Music Competition, and was awarded a scholarship by the jury. In 2013 the ensemble was awarded Second Prize at the Felix Mendelssohn Bartholdy Conservatory Competition. 10forBrass gives concerts throughout Germany and thrills audiences on the concert podium, at churches, as well as at open air performances. For instance, the young musicians were guest performers at the Schleswig-Holstein Music Festival and the MDR Musiksommer, as well as performing with the Essen Philharmonic, at the Hamburg Laeiszhalle and in the Berlin Philharmonic hall.

The musicians are dedicated to continuously including new works in various styles and varying ensemble formations in their programming. As a result, in addition to numerous brass chamber music settings, 10forBrass also performs works for brass ensemble and organ or with choral accompaniment.
The Artist's Homepage:
http://www.10forbrass.de/
Opera

Works by Borodin, Dvorák, Humperdinck, Prokofiev, Rossini and Weber

10forBrass

| | |
| --- | --- |
| GEN 19652 | |
Original

Works by Herbert Baumann, Derek Bourgeois, Jan Koetsier, Michael Nyman and Steven Verhelst

10forBrass

| | |
| --- | --- |
| GEN 15365 | |
Portrait

Works by J. S. Bach, I. Berlin, E. Crespo, C. Debussy, P. Dukas, G. Gabrieli, G. F. Händel, D. Ellington, G. Mahler, D. Shostakovich and V. Young

10forBrass

| | |
| --- | --- |
| GEN 13294 | |