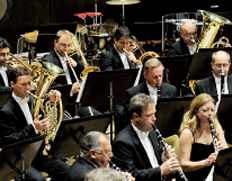 Sächsische Bläserphilharmonie
The Saxon Wind Philharmonic is the only municipal symphony orchestra made up only of wind instrumentalists. It was originally founded in 1950 as the Rundfunk Blasorchester Leipzig (Radio Wind Orchestra Leipzig) and performed for the radio broadcaster in Leipzig for 41 years. With its inimitable sound, the orchestra had a large following and well known in both East Germany and internationally through many radio and television performances. In all those years the Saxon Wind Philharmonic worked with many well-known instrumentalists, singers and conductors from around the world.

The ensemble stands out for its highly versatile tonal range, which is made possible by arrangements composed especially for the ensemble. These include musically sensitive interpretations of both contemporary original compositions as well as transcriptions of historical masterpieces from the symphonic repertoire. Concertante performances of symphonic chamber music are given thanks to the flexible formations of the Saxon Wind Philharmonic ranging from wind quintets to "serenade" scoring familiar from Mozart's Eine Kleine Nachtmusik. In these various formations the Saxon Wind Philharmonic can fully demonstrate its artistry in renditions of symphonic wind music. The high expectations of the players and their artistic quality are continuously confirmed by the positive reception of the public and the music critics alike. In addition to concert series in the region around Leipzig, the Saxon Wind Philharmonic is in demand as a guest orchestra throughout Germany and internationally.

In addition to their work in the orchestra, the musicians of the Saxon Wind Philharmonic also work as teachers at the Deutsche Bläserakademie (German Wind Academy). There, amateur and professional musicians alike are offered a broad range of learning opportunities. The Saxon Wind Philharmonic is a popular training orchestra for master classes in composition.
The Artist's Homepage:
http://www.saechsische-blaeserphilharmonie.de
Winds and Pipes

Music for Symphonic Wind Ensemble and Organ by Peeters, Trachsel, Guilmant, Gigout, Gabrieli and Bach

Sächsische Bläserphilharmonie - Daniel Beilschmidt, Organ - Thomas Clamor, Conductor

| | |
| --- | --- |
| GEN 16445 | |
Images and Mirrors

Works for Cello, Saxophone Quartet and Wind Orchestra

Sächsische Bläserphilharmonie - Peter Bruns, Violoncello - clair-obscur, Saxophone Quartet - Thomas Clamor, Conductor

| | |
| --- | --- |
| GEN 16419 | |
Alma Llanera - Soul of the Plains

Venezuelan Music

Sächsische Bläserphilharmonie - Alma Llanera Quintet - Thomas Clamor, Conductor

| | |
| --- | --- |
| GEN 15358 | |
Saxony

Works by Johann Sebastian Bach, Felix Mendelssohn Bartholdy and Richard Wagner

Sächsische Bläserphilharmonie - Thomas Clamor, Conductor

| | |
| --- | --- |
| GEN 15333 | |
Symphonic Dances

Works by Dvorák, Mussorgsky, Offenbach, Strauss, Tchaikovsky and others

Sächsische Bläserphilharmonie - Thomas Clamor, Conductor

| | |
| --- | --- |
| GEN 14307 | |
Classiques français

Works by Paul Dukas, Georges Bizet, Jean Françaix and Maurice Ravel

Sächsische Bläserphilharmonie - Thomas Clamor, Conductor

| | |
| --- | --- |
| GEN 13291 | |
American Classics

Leonard Bernstein, George Gershwin, Henry Mancini

Sächsische Bläserphilharmonie - Thomas Clamor, Conductor - Ines Agnes Krautwurst, Vocals

| | |
| --- | --- |
| GEN 12247 | |
Festivus

Symphonic Classics

Sächsische Bläserphilharmonie - Thomas Clamor, Conductor

| | |
| --- | --- |
| GEN 11221 | |