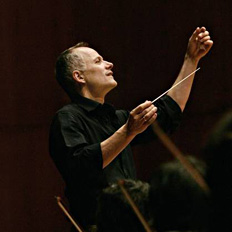 The Swedish conductor Ola Rudner started his career as a prize winner in the Paganini
Violin Competition, and was assistant to Sandor Vègh and concertmaster of such orchestras as the Camerata Salzburg, the Volksoper Wien and the Vienna Symphony Orchestra.
In 1995 he founded the Philharmonia Wien, from 2001–2003 he was Principal Conductor of the Tasmanian Symphony Orchestra, and from 2003 to 2007 he served as the Principal Conductor of the Haydn Orchestra Bolzano, where he continues to appear as a guest conductor.
He became the Principal Conductor of the Wuerttemberg Philharmonic Reutlingen in
2008.
Ola Rudner conducts all the important orchestras of Australia and Scandinavia, including the Melbourne, Sydney, Göteborg and Oslo Symphony Orchestras, as well as the Swedish Radio Symphony Orchestra.
He has also worked successfully with the Scottish Chamber Orchestra, the Vienna Chamber Orchestra, the Mozarteum Salzburg, the Radio Symphony Orchestras in Frankfurt and Stuttgart, the orchestra of the RAI Turin, the BBC Symphony Orchestra London, the Orchestre Philharmonique du Luxembourg, the London Philharmonic Orchestra, and the
Teatro la Fenice Venice. He can look back on many years of close collaboration with the Swedish Chamber Orchestra.
As a passionate opera conductor Rudner also regularly conducts the Volksoper Wien, and is a welcome guest conductor at opera companies in Australia, Sweden, Austria and Italy. His CD recordings bear testimony to his artistic work.
Siegfried Matthus

Beloved Dionysos - 75th Birthday Tribute of Siegfried Matthus

Siegfried Matthus, Composer - Ola Rudner, Conductor - Aris Argiris, Baritone - Württembergische Philharmonie Reutlingen

| | |
| --- | --- |
| GEN 89144 | |