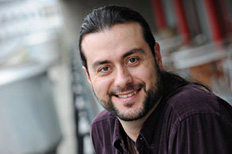 Aris Argiris was born in Athens in 1974. He attended the Athens Music Conservatory between 1989 and 1995 where he initially studied Saxophon, Counterpoint and Classical Music Harmony. In 1993 he commenced his studies of Marketing and Languages (English, Italian) at the university of Athens and simultaneously studied Voice under Kostas Paskalis, Frangiskos Voutsinos and Despina Calafati. In 1996 he took part in an international master class under the direction of Gabriella Ravazzi in Orvieto, Italy. In 1999 he was awarded the Maria-Callas Scholarship in Athens and continued his vocal studies with the eminent Professor Daphne Evangelatos at the Music Academy in Munich. Whilst studying he sang regurarly in Concert and Opera performances, at the "Prinzregenten" Theatre in Munich (Don Giovanni) and at the "Gewandhaus" in Leipzig.
In 2002 Aris Argiris was prize-winner at the International Voice Competition at the Kammeroper Schloss Rheinsberg and sang the title role in Mozart's "Don Giovanni". From 1999 he has made regular guest appearances in Greece, amongst others, in the Athenian State Opera House, the Music Megaron in Athens and Thessaloniki.
Apart from Don Giovanni, his repertoire includes the following roles: Escamillo (G. Bizet: Carmen), Belcore (G. Donizetti: L'elisir d'amore), Schaunard (G. Puccini: La Bohéme), Dandini (G. Rossini: La Cenerentola), Fieramosca (H. Berlioz: Benvenuto Cellini), Sharpless (G. Puccini: Madama Butterfly), Guglielmo (W. A. Mozart: Così fan tutte), Figaro (G. Rossini: Il Barbiere di Siviglia), Don Fernando (L. v. Beethoven: Fidelio), Orfeo (J. Peri: Euridice), Pilade (Ch. W. Händel: Oreste), G. Germont (G. Verdi: La Traviata), Donner (R. Wagner: Das Rheingold).
He has worked, among others, with the conductors Christian Thielemann, Kurt Masur, Yakov Kreizberg, Gustav Kuhn, Heribert Beissel, Nikos Athineos, Donato Renzetti.
In November 2003 Aris Argiris has sang the baritone-role in "Ariadne – Dithyrambos für Bariton und Orchester" by Siegfried Matthus in Frankfurt/Oder and Potsdam, as well as singing in "Carmina Burana" with the Bonn Classic Philharmonic Orchestra in the Beethoven Concert Hall Bonn. Furthermore he sang in several gala concerts at the Kammeroper Schloss Rheinsberg as well as in the Chamber Music Room of the Berlin Philharmonic Hall.
In January 2006 was his debut as G. Germont (Verdi: La Traviata) at the Oper Leipzig and at the Oper Bonn.
Aris Argiris is currently engaged at the opera house in Bonn,where his roles will be Demetrius (B. Britten: A Midsummer Night's Dream), Lord Enrico Asthon (Donizetti: Lucia di Lammermoor, Conte d'Almaviva (W. A. Mozart: Le nozze di Figaro) and Don Giovanni (Mozart).
In 2007 was his debut as Escamillo (Bizet: Carmen) at Hamburgische Staatsoper and as Marcello (Puccin: La Bohème). The following debuts will be at the Deutsche Oper Berlin (June, 2007: Escamillo), at the opera house in Stockholm (2008 and 2009: Dandini) an as Escamillo at the Royal Opera House London in 2010.
With the beginning of the season 2008/09 he will be engaged at the opera house in Frankurt. At this opera house he will sing Posa (Verdi:Don Carlos), Ramiro (Ravel:L'heure espagnol) and Dandini.

The Artist's Homepage:
http://www.aris-argiris.com/
Siegfried Matthus

Beloved Dionysos - 75th Birthday Tribute of Siegfried Matthus

Siegfried Matthus, Composer - Ola Rudner, Conductor - Aris Argiris, Baritone - Württembergische Philharmonie Reutlingen

| | |
| --- | --- |
| GEN 89144 | |